Email Archiving – An Overview for IT Decision-Makers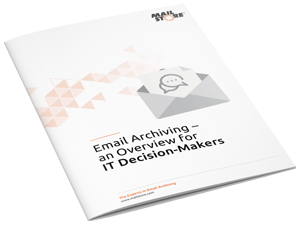 In the digital age, email is not only an important means of communication for companies, but also a comprehensive information resource. The global increase in email volumes year on year underlines this trend. Emails contain a great deal of business-critical data, such as contracts, personnel data, orders, shipping records or customer agreements.
Preserving this information over time so that it can be used efficiently by employees can play a crucial role in a company's success. But email archiving can also help you to meet legal, technical, and financial challenges with regard to email management.
This 14-Page Guide Is Aimed at IT Professionals Wishing to Obtain an Overview About the Benefits of Email Archiving.
The white paper details the following:
Why email archiving should be part of your IT strategy
Why backups are no substitute for an email archive
How an email archiving solution can reduce the burden on your IT department
What other benefits your entire company can enjoy
To achieve this, certain requirements must be met by the software. The white paper provides you with a requirements catalogue to help you find the right archiving solution for your company.
Target Group
IT managers and administrators, CIOs, CEOs
About MailStore
MailStore Software GmbH from Viersen near Düsseldorf, Germany, is one of the world's leading providers of email archiving solutions. Over 80,000 companies, public authorities, and educational institutions in more than 100 countries have placed their trust in the products of the German specialist. Because we are "The Experts in Email Archiving".
You will find more information on MailStore Software GmbH on our website www.mailstore.com.