Archiving Emails in Microsoft 365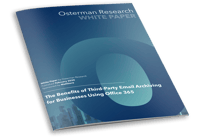 This white paper is addressed to small and medium-sized companies that already use Microsoft 365 or plan to do so. It explains on 13 pages whether Microsoft 365's own features or a third-party solution is the best choice and why.
The Content
Why should you, as a Microsoft 365 customer, be interested in email archiving at all?
What does Microsoft's "Shared Responsibility Model" mean for you?
Why does your company need an extra email archiving solution if it's already using data backups?
Which native options for email archiving does Microsoft 365 offer?
What can these options accomplish and what are their limitations?
Why can it be beneficial for you to implement a third-party solution rather than use the native options provided by Microsoft?
Target Group
IT managers and administrators, CIOs
CEOs and business owners who already use Microsoft 365 or plan to do so